Geotechnical & Environmental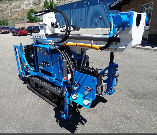 L.A.D. – Track Mounted Limited Access Geotech Drill
MPP's new limited access geotechnical drill. This compact, rubber tracked rig was designed to complete work on drill sites where access is limited and/or environmental impact must be kept to a minimum.
See Details
Download Brochure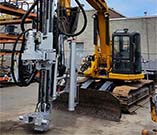 Geopower – Excavator Mounted Geotech Drill
MPP's excavator mounted Geopower drill, was developed for geotechnical and multi-purpose drilling requirements. The rig can easily be adapted to mount on most mid sized excavators. Featuring our PII top drive with high speed coring option, the Geopower excavator mounted drill can be used for auger, air rotary/odex and diamond core drilling. An SPT auto hammer, hydraulic head slide winch and auto hammer mounting arm are all standard features ideal for typical geotechnical work. The Geopower excavator mounted drill mast is a simple, efficient unit and an inexpensive alternative to a complete drill.
See Details
Download Brochure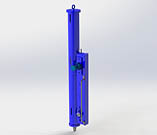 MPP SPT Auto Hammer
MPP now offers a hydraulic driven, fully automatic Standard Penetration Test (SPT) drop hammer.
See Details