Geopower – Geothermal Drill
The Geo power was developed with the geothermal market in mind. Available as a truck or track-mounted rig the Geo power can be easily set up in established residential and commercial job sites as well as newly developed subdivisions. The rig features an on board mud pump and hollow spindle top drive to accommodate both mud rotary and DTH hammer drilling.
Features
Ready for mud or air drilling


 

Compact design for limited access sites


 

On-Board Mud Pump


 
Available Track Mount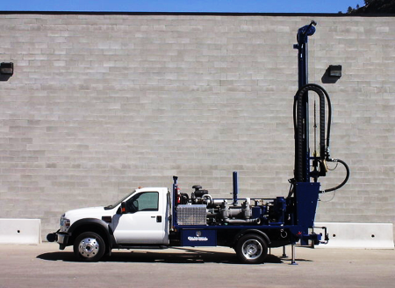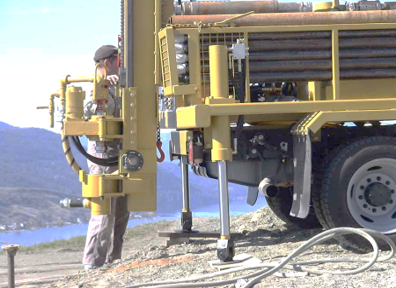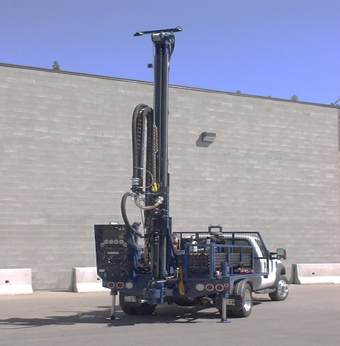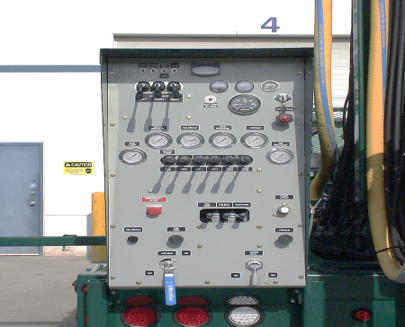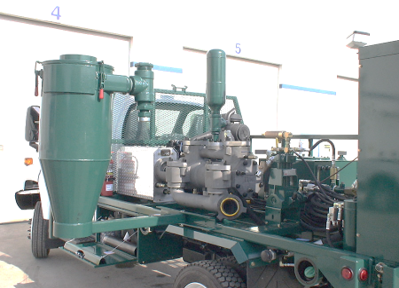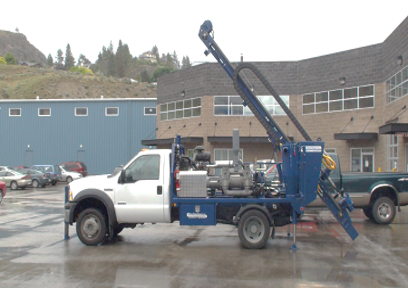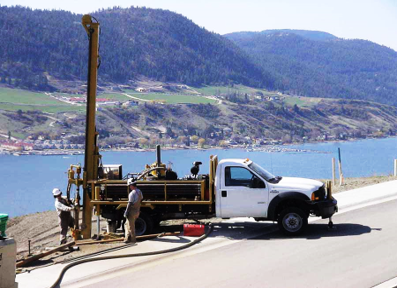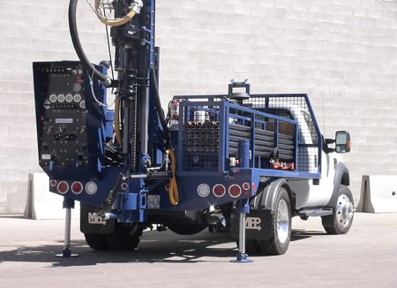 Depth Capacities: Based on 400 CFM / 200 PSI compressor
3-1/2" (89mm)
330 ft / 100 m*
 
*Depending on ground conditions
Prime mover
Model:
Kubota V3800T, 4 cylinder, turbo charged diesel engine
Power:
99 HP @ 2600 RPM
On board mud pump
Model:
Centerline 7.5 x 10 mono aluminum mud pump
Capacity:
150 GPM / 400 PSI
Cooling
Ambient temperature rating:
50 Deg C (122 Deg F) 
Coolers:
Hydraulic driven fans
Top drive rotation unit:
Max torque:
2500 lbs /ft
RPM:
0-120 RPM
Spindle:
Floating w/ NWJ thread
Rotation motor:
Char-Lynn 6K series
MAST AND FEED
Design:
Chain over cylinder feed
Pullback:
15,000 lbs.
Pullback speed:
0-76 fpm
Pulldown:
10,600 lbs.
Pulldown speed:
0-73 fpm
Feed stroke:
12.5 ft
Working angle:
45 to 90 degree
Mast dump:
40" travel
HYDRAULIC SYSTEM
Design:
Fully hydraulic, no electronics, open loop
Capacity:
40 GPM
System pressure:
3000 PSI
Filtration:
10 micron
Components:
Sauer Danfoss, Valvoil, Rexroth & Parker
Heat exchanger:
Air:oil
Control panel
Panel:
Engine display, drilling functions, setup functions, & E-stop
Gauges:
Rotation, holdback & air pressure
WINCH
Design:
Planetary style w/ fail safe brake
Pull:
2000 lbs.
Capacity:
100 ft x 1/4" cable
Water Injection Pump
Max flow:
5 GPM
Max pressure:
550 PSI
Drill Table/BOP
Opening:
5-1/2"
Stabilizers
Three c/w 24" stroke
INCLUDED COMPONENTS

Accessories:

Discharge cyclone, rod rack, RAB swivel
Weight
8000 lbs.
OPTIONS
Tracked carrier
Compressor package
Mud screening plant