Grasshopper - Track Mounted RC/RAB Drill
MPP's most portable track mounted RC (reverse circulation) drill, the Grasshopper was developed for drilling programs in remote areas. The Grasshopper features a 45 HP Kubota diesel engine, 304 track carrier package and blade for site prep. The rig can be broken down into modules that weigh less than 1200 lbs. and are compact enough to fit into a small fixed-wing aircraft.
Features
Lightweight modular design


 

No module over 1250 lbs.


 

Ideal for early-stage exploration


 
Available booster package to increase depth capacity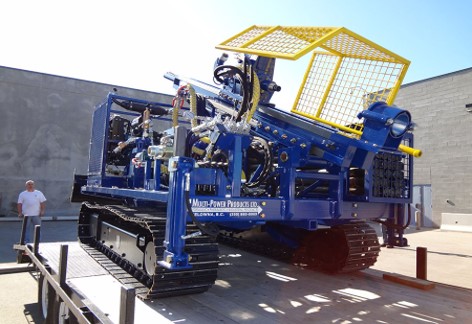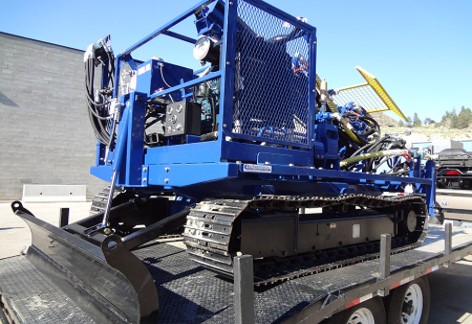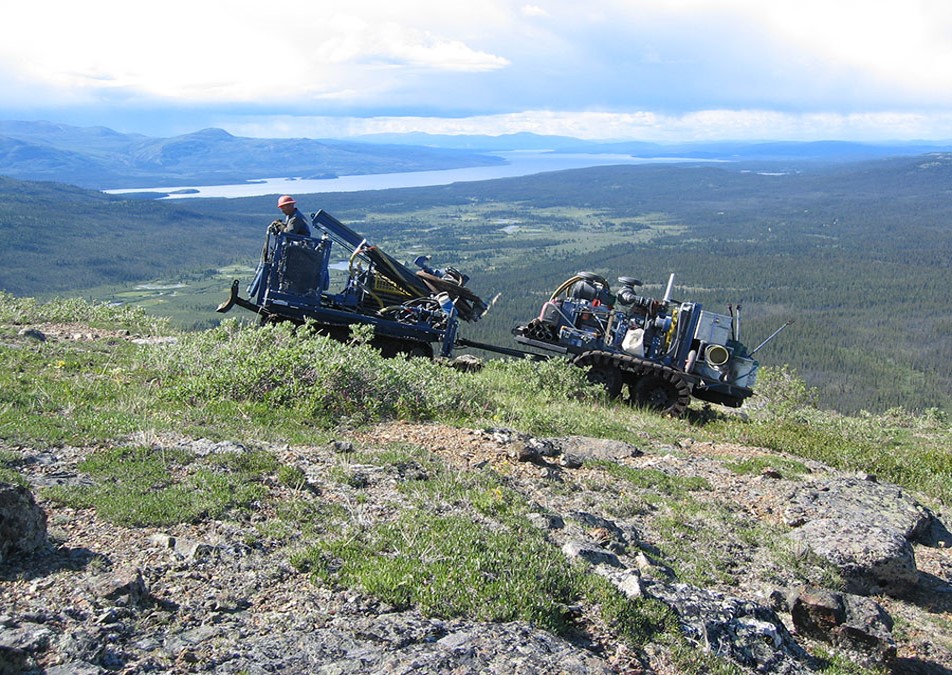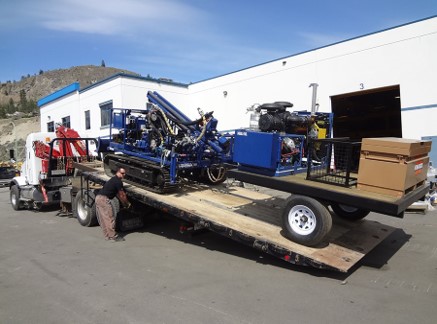 Depth Capacities: Based on 300 CFM / 200 PSI compressor
3-1/2" (89mm)
330 ft / 100 m*
 
*Depending on ground conditions
Prime mover
Model:
Kubota V1505T, 4 cylinder, turbo charged diesel engine
Power:
44.2 HP @ 3000 RPM
Track package
Model:
Cat 304C
Design:
Hyd. driven piston motors, spring brake, 2 speed, 400mm shoes
Speed:
3.3 mph
Top drive rotation unit:
Max torque:
1500 lbs /ft
RPM:
0-120 RPM
Spindle:
Floating w/ NSE2-7/8" Reconn thread
Rotation motor:
Char-Lynn 6K series
MAST AND FEED
Design:
Cylinder feed
Pullback:
16,200 lbs.
Pulldown:
8250 lbs.
Feed speed:
0-76 fpm
Feed stroke:
84"
Working angle:
45 to 90 degree
Mast dump:
40" travel
Swivel 
Design:
Combination air inlet/sample discharge
Discharge:
HD 2" Gooseneck assy.
Blade
Width:
7 ft
Blade travel:
6" below track bottom, 22" above track bottom
HYDRAULIC SYSTEM
Design:
Fully hydraulic, no electronics, open loop
Capacity:
20 GPM
System pressure:
3000 PSI
Filtration:
10 micron
Components:
Sauer Danfoss, Char-Lynn & Parker
Heat exchanger:
Air:oil
Control panel
Panel:
Feed, rotate, setup functions, & E-stop
Gauges:
Rotation, holdback & air pressure
Water Injection Pump
Max flow:
5 GPM
Max pressure:
550 PSI
Drill Table/BOP
Opening:
4-1/2"
INCLUDED COMPONENTS

Accessories:

Sample cyclone, air needle, saver sub, discharge/pressure hose

Weight:

10,000 lbs.

Dimensions:

7' W x 13' 2" L x 7' 5" HT
OPTIONS
Compressor package
Booster package
RAB package
Sample splitting equipment