Multi-Sonic MS-75 Track Mounted Sonic Drill
MPP's new track-mounted sonic drill. This is the first rig in our Multi-Sonic line. The MS-75 features a compact, low impact design, powerful 160 HP Cummins diesel, rod handler and a 75 Hz MiniSonic drill head. The rig is ideal for geotechnical and environmental drilling projects. With the available auto hammer & swing arm, progressive cavity grouting pump and mine safety guarding the MS-75 can be utilized for geotechnical, environmental, mining and construction applications.
Features
Compact & Low impact - Small Footprint & Rubber Track Undercarriage



Powerful - 160 HP Cummins Power Unit

Safe – Rod handler & Guarding

Fast & Efficient – Sonic Drilling Technology Provides a Fast, Accurate Sample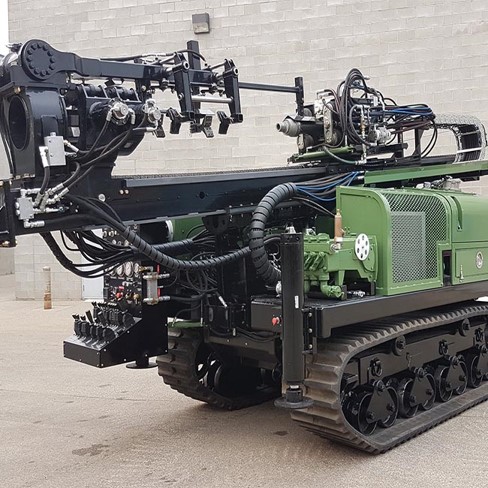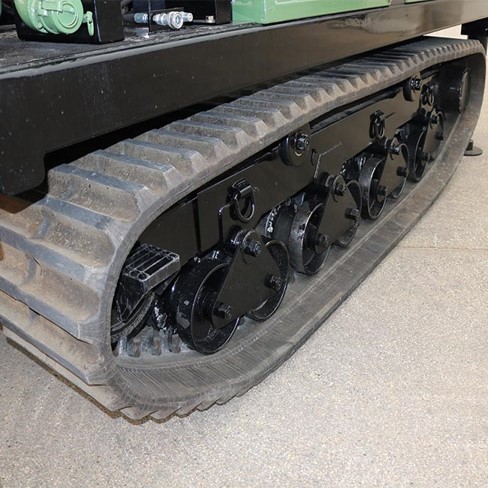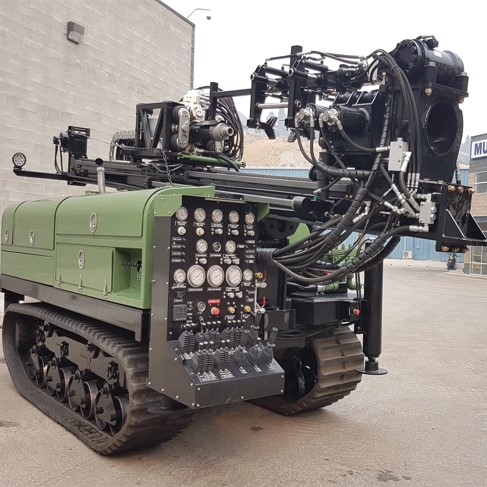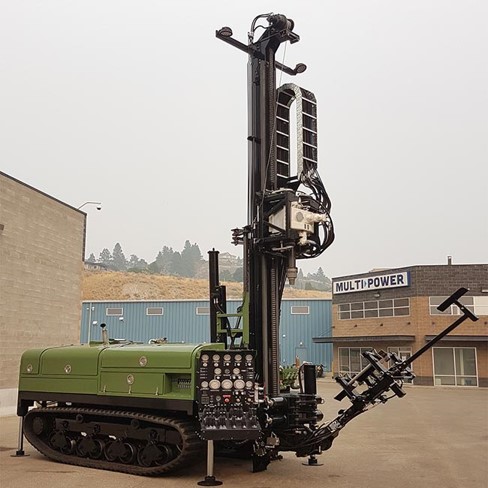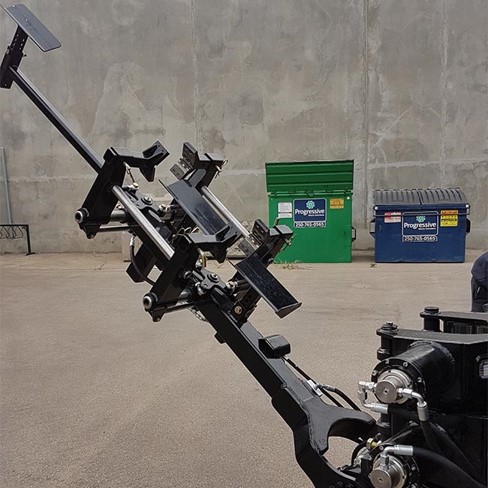 Depth Capacities*: 
4.75" (121 mm)
255 ft / 78 m
6" (152 mm)
200 ft / 61 m
7" (178 mm)
170 ft / 52 m
8" (203 mm)
150 ft / 45 m
 
*Depending on ground conditions
Prime mover
Model:
Cummins QSB4.5, 4 cylinder, turbo charged diesel engine
Power:
160 HP @ 2200 RPM
Rotation unit / Oscillator:
Model:
MiniSonic
Frequency range:
0-75 Hz
Output force @ 75 Hz:
41,000 lbs.
Max torque:
1700 ft-lbs.
Rotation speed:
0-80 RPM.
Track package
Model:
Morooka MST-800 rubber tracked undercarriage
Design:
Hyd. driven piston motors, spring brake, Brevini final drive
Speed:
3 km/h
Max grade:
86% / 39 degree
Control:
Radio remote w/ manual control on rig
Break-out clamp
Style:
Two hydraulic clamp "double break-out" system
Max opening:
12"
Clamping force:
30,000 lbs.
Breaking torque:
25,000 ft-lbs.
MAST AND FEED
Design:
Chain over cylinder feed
Pullback:
15,000 lbs.
Pulldown:
10,600 lbs.
Feed stroke:
14 ft.
Working angle:
45 to 90 degree
Rod pull:
10 ft / 3 m lengths
Tilting head:
30 degree side tilt
Mast dump:
48" travel
Rod handler
Style:
Front mounted, two clamp system
Max clamping diameter:
12"
Rod length:
10 ft / 3 m
HYDRAULIC SYSTEM
Design:
Fully hydraulic, no electronics, open and closed loop
System pressure:
4500 PSI
Filtration:
10 micron
Heat exchanger:
Air:oil
Cooling
Ambient temperature rating:
50 Deg C (122 Deg F)
Coolers:
Hydraulic driven fan
Control panel
Engine control:
Complete engine control - ignition, throttle, tach, safety shut-downs
Drill control:
Control handles for all drilling functions
Water control:
Water "tree" w/ gauge and shut-offs
E-stops:
(2) E-stop included
Drive control:
Control valves for manual LH & RH track control
Winch
Design:
TH1 planetary style w/ fail safe brake
Pull:
2200 lbs.
Capacity:
100 ft x 1/4" cable
Water pump
Model:
W1122BCD (435) Piston pump
Max flow:
37 GPM
Max pressure:
1000 PSI
Drill deck
Stabilizers:
(4) Hydraulic stabilizers
Fuel tank capacity:
50 gallon
Storage:
Multiple tool boxes
Auto hammer (Optional)
Hammer weight:
140 lbs.
Complete assy. Weight:
323 lbs.
Hammer travel distance:
30"
Percussion rate:
0-50 blows per minute
Mounting arm:
Hydraulic swing in / out
Grout pump (Optional)
Model:
Continental 3CL4 progressive cavity pump
Max flow:
14 GPM
Max pressure:
225 PSI