Sampling Equipment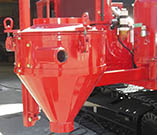 Cyclone - Sample Collector
MPP offers a complete line of Cyclones to Use with most air rotary drills. The MPP cyclones are designed to collect drill samples and cuttings. When paired with our three-tier or wet rotary splitter, the MPP cyclones are ideal for accurately collecting and separating RC and RAB drill samples. With three standard sizes, MPP's line of cyclones cover all applications from lightweight helicopter portable to large diameter, deep hole drilling and sampling.
See Details
Sample Splitter - 3 Tier Riffle
To complement our line of air rotary drilling equipment, the MPP Sample Splitter, 3 Tier Riffle is used to reduce samples. Featuring all-steel construction, handles and rubber tires, the Sample Splitter – 3 Tier Riffle is designed for field use and abuse. The three-tier splitting system is ideal for drilling projects where large quantities of the dry sample need to reduce.
See Details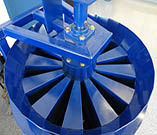 Wet Sample Splitter - Rotary
Ideal for wet drill samples, MPP's Wet Sample Splitter is used to reduce large drilling samples accurately. The MPP Wet Sample Splitter has 24 louvers and 12 removable louvers covers. In total, 12 louvres run to one discharge outlet and 12 the secondary outlet. With the removable louver covers, there are many split ratios. With the covers you can split 100:0, 50:50, 25:75, 0:100 etc. A hydraulic motor and flow control maintains a consistent, adjustable rotary function.
See Details